Blundstone:


The Classic Chelsea Boot
Chelsea boots are everywhere, and for good reason—they're the workhorse of any boot collection. We should know. The first Blundstone Chelsea boot style started in our factory in Tasmania over 60 years ago.

Today, everyone from filmmakers, craftsmen and farmers and Hollywood A-Listers alike, roam in a pair of Blundstone Chelsea boots. From its early days as a work boot to the fashionable boot that it has become today, we explore everything there is to know about the Chelsea boot.
---
"From rugged origins, to their current style-icon status, Chelsea boots have enjoyed enduring appeal"
---
HISTORY OF THE CHELSEA BOOT
When it was first introduced in the 1850s, the Chelsea boot was on the cutting edge of technology. This was due to the use of vulcanized rubber for its side panel, an invention that had only recently been made by Charles Goodyear.

Right from the start, the Chelsea boot was championed as a rugged work boot. Horse riders, in particular, took to them because of their strength and resilience. But it wasn't until Queen Victoria was spotted in a pair that the popularity of the Chelsea boot took off back in 1851.

During this time, the boot was still known as the "elastic ankle boot." It wasn't until the 1950s—when the boot became a favourite among members of the influential mod-culture known as the "Chelsea set"—that the boot got its name.
---
WHAT DEFINES A CHELSEA BOOT?
First and foremost, it's the elastic side panel. The distinctive feature not only makes the boot easy to put on, but it also helps create the close, comfortable fit we know and love.

Another iconic design element that defines a Chelsea boot is the pull-tab that allows you to slip a finger into it to help pull the boot on. Since we introduced our Chelsea boot, Blundstone boots have always featured pull-tabs to easily slide the boots on.

While originally made of leather, Chelsea boots can be made from a variety of materials. We made our first pairs with premium, durable brown leather and later introduced a black leather variant. Over the years, we've added new colours and materials, offering more choices for our expanding markets.

Traditionally, Chelsea boots have featured a standard heel. However, as fashion and style has evolved this design characteristic has changed and become more flexible. In fact, Blundstone has just introduced a Women's Chelsea boot called our Women's Heel boot with a taller heel than our other boots.
Shop our most popular styles
Chelsea Boots for Men and Women
One of the defining characteristics of the Chelsea boot is that it has always been popular among men and women—from the Victorian era, to the revival in 1960s London, to today. Blundstone continues in that tradition today with our boots that have a universal appeal.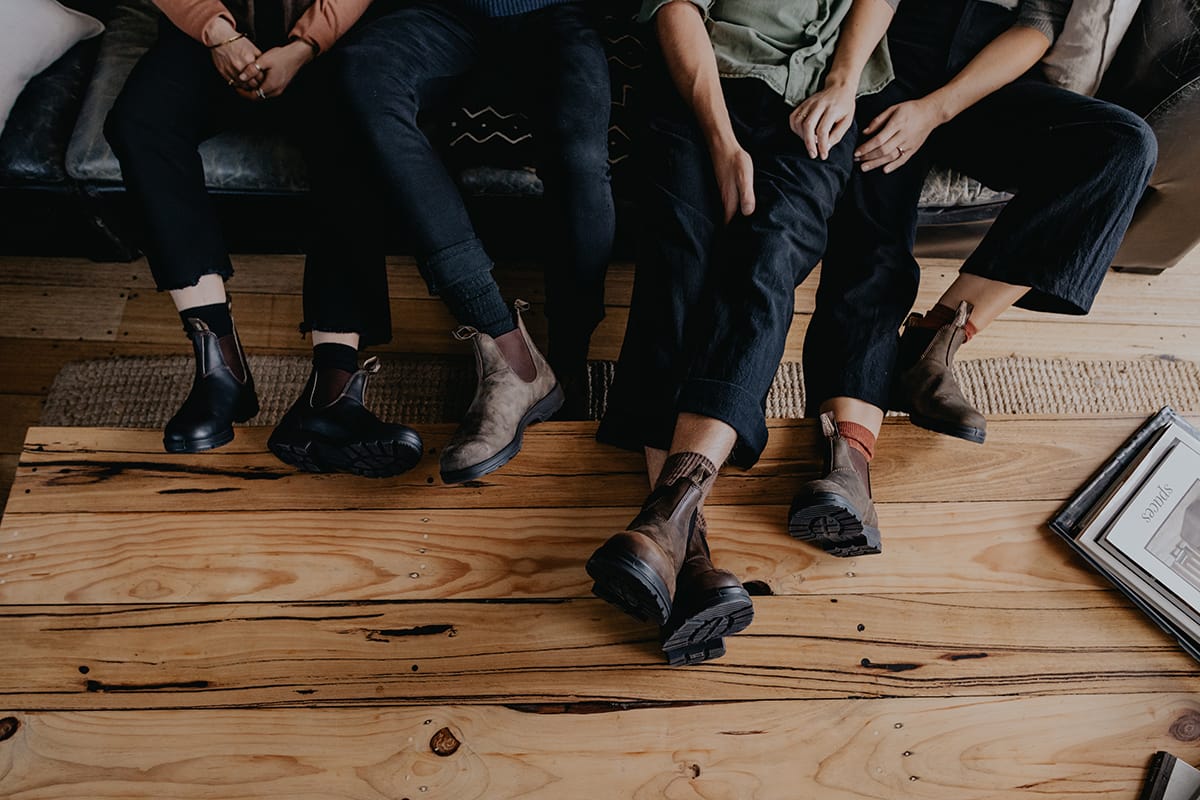 What to wear with Blundstone Chelsea Boots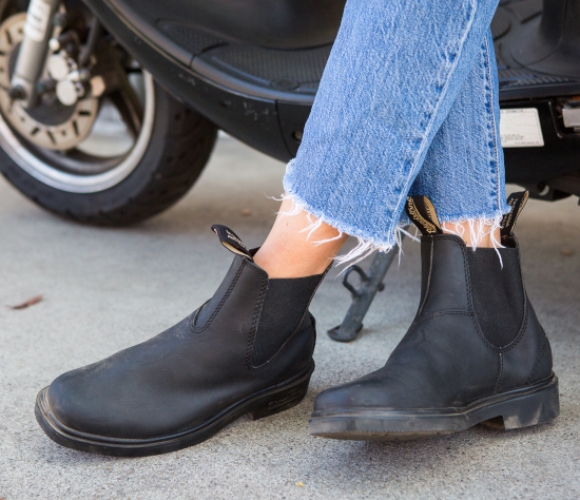 WOMEN
The Chelsea boot can be worn alongside a range of styles but look particularly great with skinny jeans or boyfriend jeans—either rolled up a little to show off the boot or tucked into the top of the boot. For a comfortable "boho" look, loose fitting, flowy clothes and skirts fit in nicely with the more rugged Chelsea boot style. Festival goers can forgo the wellington boot and go with a Chelsea boot with shorts. They will not only keep your feet dry and warm but are also more stylish than traditional gumboots.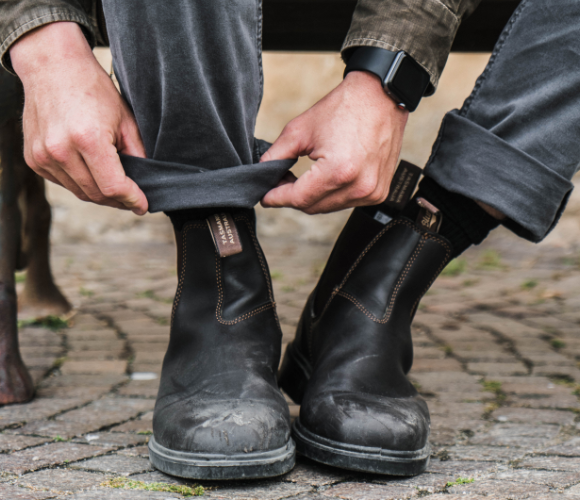 MEN
A pair of rugged Chelsea boots look great with jeans. The beauty of our Chelsea boots is that you can dress them up or down—they're sharp enough to wear with a suit, and rugged enough to pair with jeans and a flannel.
Variations of the Chelsea Boot
Modern Chelsea boots can come with rugged soles or even leather soles for a more formal look. No matter what style you prefer, the versatility and reliability of the Chelsea boot make them indispensable. These classic-style boots can be worn over and over without going out of fashion.

Blundstone has grown to become one of the world's most recognisable boot brands, making a variety of Chelsea boots in numerous styles and finishes like dress boots and our Women's heel boots. Like Blundstone, the Chelsea Boot comes with a well-known heritage and truly remains as fashionable, stylish and relevant today as it was when it was originally released.